Inneract Project: Curriculum design for youth
Inneract Project provides free design classes and initiatives to youth from underserved communities, in order to introduce them to the field of design and channel their creativity into viable career paths, ultimately building a more diverse community of makers and thinkers in the design and technology field.
I joined the team in the winter of 2016 as a Strategist & Education committee member to help the team validate and bring to life an idea for teaching entrepreneurial design to youth, and led:
Qualitative research

Planned and facilitated workshops
Defined and piloted a curriculum with teachers, staff and students
Role: Strategist & Education Committee member, on a volunteer team of 3.
Where & when: Inneract Project, 12/2016 - 8/2017
Question: Should Inneract Project start to teach entrepreneurship to their students? Do students need or want to learn it?
Solution: Conducted research with students and experience entrepreneurs to validate the assumption. Co-created an entrepreneurial design curriculum with teachers, staff and students.
Project background


It's really special to walk into an Inneract Project classroom and see primarily youth of color in middle and highs school, gaining access the skills, resources and opportunities necessary to learn about and work in the design and technology field. Some of their programing inlcudes: weeks-long foundation design classes, project-based classes, workshops and studio tours.



Inneract Project had an assumption they wanted to validate:


"We think we'd like to incorporate entrepreneurship into IP's curriculum. But we'd like to make sure students want it. We also want to investigate what aspects of entrepreneurship would be particularly useful for our students."
— Maurice Woods, founder of Inneract Project

To answer that question, my co-strategist, Pam Jue and I focused on learning:

Do students need or want to learn about entrepreneurship?

What is the experience & wisdom of current entrepreneurs, as it pertains to introducing youth to entrepreneurial concepts?
Research with students and experienced entreprenuers.


Our research activities included:

talking with current students, ranging from middle to high schoolers

talking with a group of entreprenuers who had divergent paths prior to starting a business, and had unique approaches to being entreprenurial
serving as teacher assistants during Inneract Project classes

Each person — youthful or experienced — opened our eyes to how they learn, what kind of life they are working towards, what motivates them, their ideas and feelings towards money, who inspires them, and so much more. Conversations with students were particularly helpful for us to get a baseline understanding about where Inneract Project students are in their journey of learning. Many of the students just beginning to realize that a combination of design, art and technology is a powerful venue for self-expression and learning.

Below are highlights from the interviews, as well as analysis of all of the highlights. We identified common themes amongst the interviews by taking ourselves through the KJ method.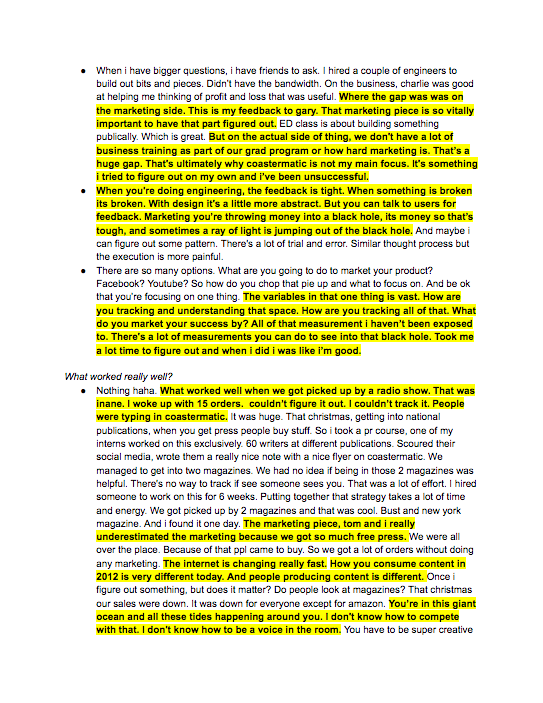 Our next step was to compare what students have heard or think about entreprenuership or their own personal experiences with entrepreneurship compares to current entrepreneurs' experience and reality. We wanted to focus on the common areas between the two groups of people, so that we might find the best opportunities for creating the space for learning about the entrepreneurial mindset. From this exercise, we learned that:

There are traits that an entrepreneur must have, or should cultivate:
Students are interested in an entrepreneurship class because it's a low-risk, constrained environment where they can learn valuable life skills and test the waters as a career path.

There must be some internal motivation and personal connection why they are starting their own business whether it's their passion, a personal problem, or lifestyle they want.
It's good knowledge to learn. It's just good to know. I think it'd be good for everyone and not just people who want to be entrepreneur. — student
First thing I would have is a product that would solve a problem. — student

If I wasn't obsessed about it, I would not be happy at all. — experienced entrepreneur
That there are a series of activities an entrepreneur executes when starting & building a business:
Ideas need to be validated in small and cheap ways before executing on a larger scale.

It is important for an entrepreneur to know how to manage and invest their money for their business.

An entrepreneur's community is necessary to the success of their business, and personal, emotional and financial well-being because they offer different perspectives when facing challenges.
I would say to start, it's a prototyping thing. What's the smallest you can do and put it in front of someone? And keep doing that. — experienced entrepreneur

[I want to learn] how to invest money, how to make better decisions making a business. — student

Being stuck is part of the process. You have to have a system to manage that. — experienced entrepreneur

If you don't have any more ideas, don't lock yourself in the basement to try harder. Have a dialogue with people; that's how you evolve ideas. — experienced entrepreneur
Facilitated workshops to develop the curriculum alongside teachers and staff.


We wanted to share what we had learned with the teachers and staff in a way where we could work towards a shared goal. So, in addition to sharing the research, we facilitated a series of workshops with teachers and staff that would help the entire room reflect on the research findings and generate ideas. We asked:

How might we help students uncover the types of problems or opportunities they feel passionate about?
How might we help students figure out if their idea is based on a problem worth solving? Or, how might we help them validate their ideas by breaking them down into small and cheap experiments?
How might we teach students how to create and sustain a business from a financial perspective?

How might we build upon and expand on the concepts taught in current Inneract Project classes?

Everyone, individually, answered the question by writing or drawing ideas on paper. Then we shared our ideas with the group, putting each idea on the wall. The process brought to light the wisdom of the staff and teachers' experiences.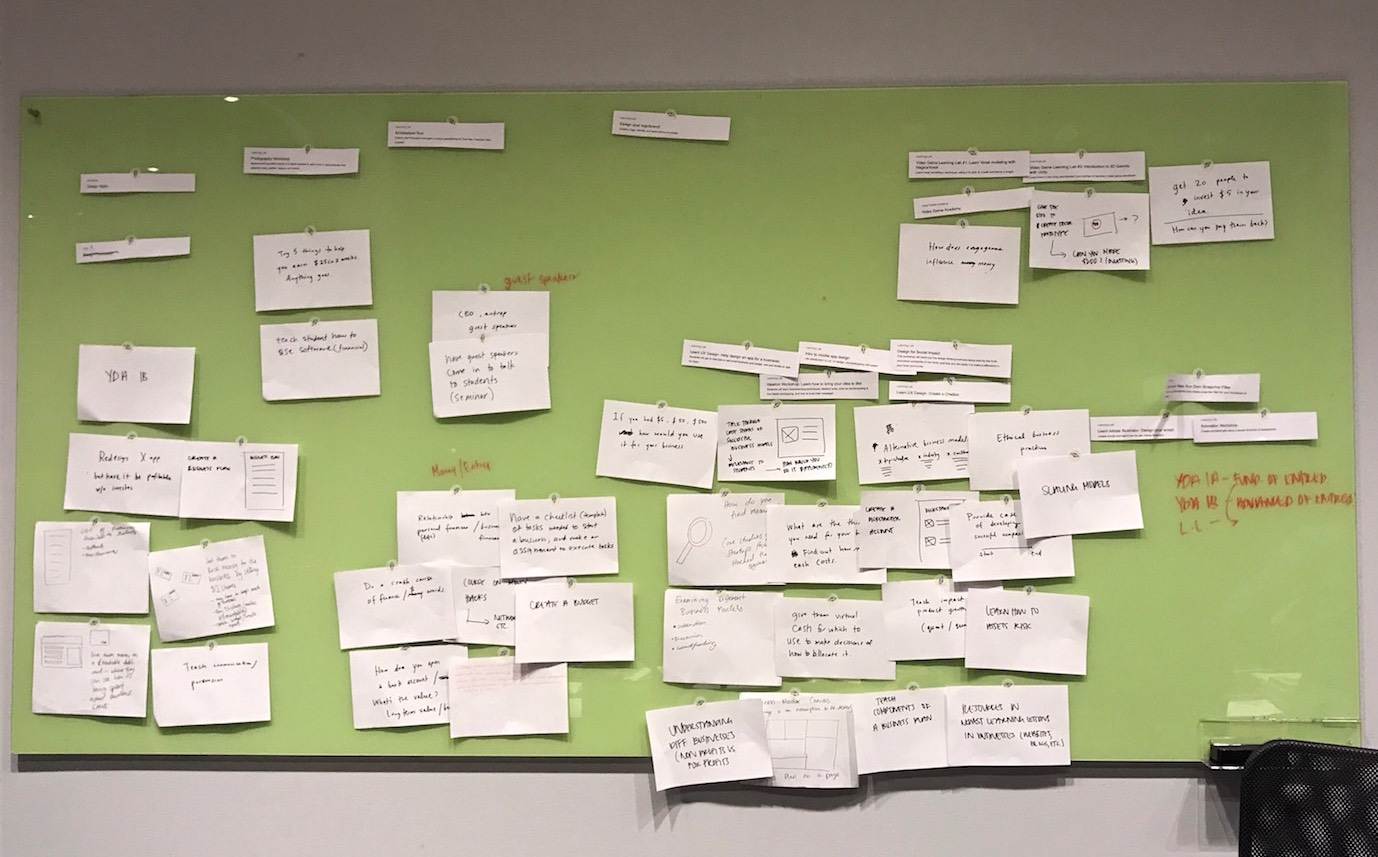 The group activities left people energized and built positive momentum. Unexpectedly, we also heard from the staff that our facilitated, participatory workshops and way of engaging the entire group will become a model for how programs are developed in the future.


Not only are your findings instrumental to student impact and growth, but, your work is paving the way for the organization. I envision your process and approach being a model for program development (the thought, research, context, team integration).
— Josephine Lee, Inneract Project
Piloted a class that is entrepreneurship focused.

The team's dialogues led us to a shared understanding that to teach entrepreneurship, students need to be introduced to and continually revisit and build upon the concepts of entrepreneurialism over time, spanning many classes. We also knew that we had to test some of the concepts to see what worked and what didn't with students.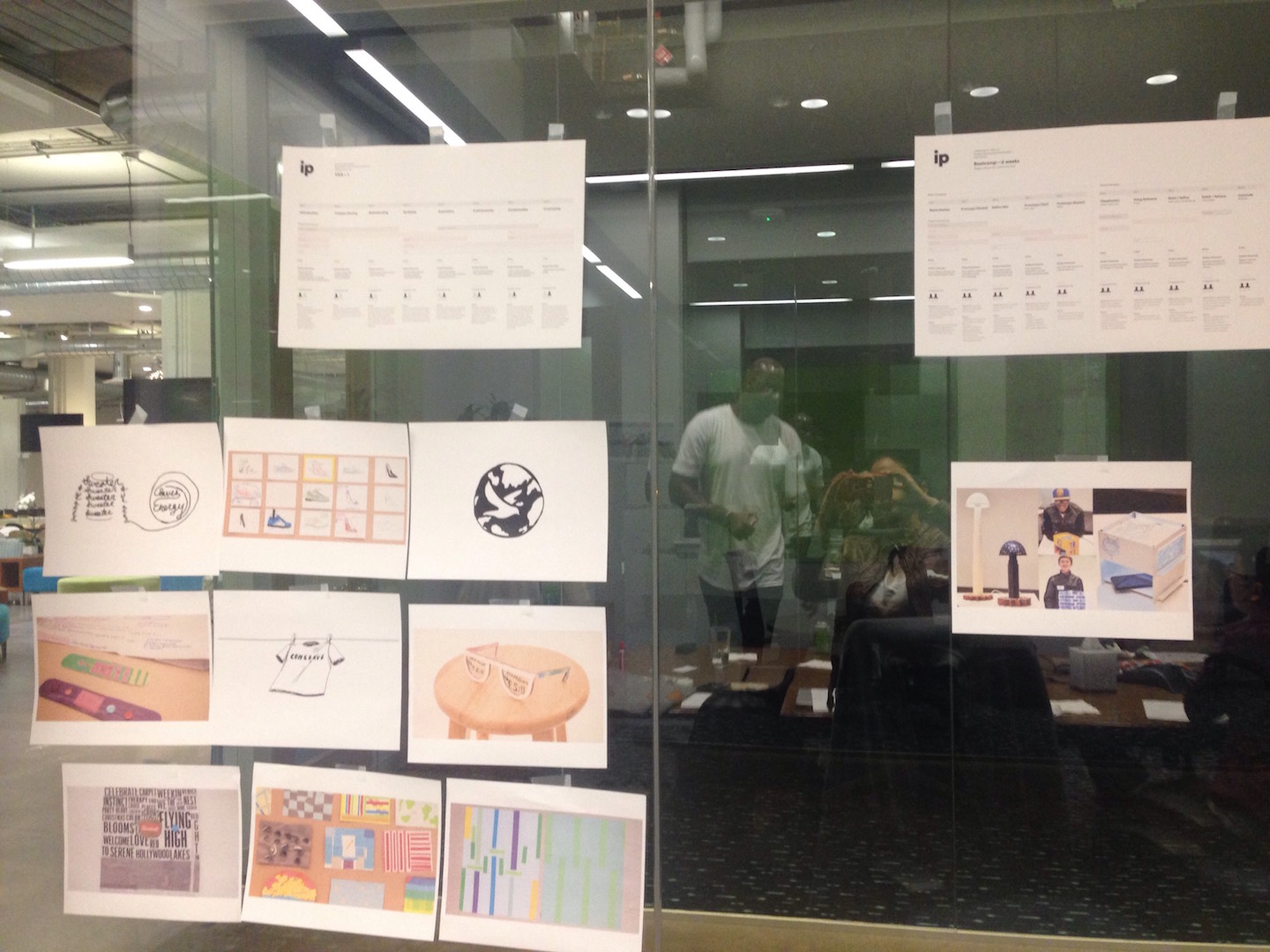 We integrated exercises that encourage the entrepreneurial mindset and ways of thinking and working in an upcoming project-based 4-week Youth Design Academy, and taught it in October 2017. We also identified how we would validate our ideas in the duration of the class, by aligning on what we want to learn from the class, how we will learn it, with the goal of adjusting what needs to be improved for future classes.