Research to redesign the application process for multiple public benefits
Challenge
Applying to and recieving benefits from the government is a fragmented, duplicative, emotional and time consuming experience.

Outcome
Discovery research and prorotyping that identified key technology and service improvements that federal and state governments can implement to transform the experience of accessing and enrolling in health and human service programs.
About the project
Project snapshot

For people who need timely access to critical benefits, interacting with the government can become as time consuming as a part-time job.
In recent years, there has been a shift of providing benefits (such as food stamps) per program or agency to providing benefits in a more family-centered way. This means changing the way applications are processed and connecting people to the right set of services when a family needs them.
Links & Press
Role
Researcher, on a team of 10.
Qualitative research (stakeholder and user interviews, contextual inquiry), analysis and synthesis (affinity diagramming, journey mapping)
Defined design principles
Prototyped a responsive online application that allows users to apply for multiple benefits and enroll within the same day
Where & when
18F with United States Digital Service, 2/2016 - 4/2016
For people who need timely access to critical public benefits, interacting with the government can become as time consuming as a part-time job.
In recent years, non-profits, academia and state and federal government agencies alike began studying and experimenting with a shift toward a more family-centered — as opposed to program or agency-centered — approach to program delivery. This has meant simplifying steps, creating more efficiency and effectiveness in how applications are processed, and connecting people to the right suite of service at once in times of need.
Building on the work of Medicaid modernization, the
Centers for Medicaid and Medicare
(CMS) and the
U.S. Digital Service
(USDS) have been working to use human centered design and technology to
improve how benefit applicants get access to critical services
.
Our team wanted to:
understand the step-by-step applicant experience of enrolling in programs such as food assistance, cash assistance and Medicaid,

gather needs and best practices from state and county program administrators working to improve their systems,

explore opportunities to accelerate user-centered enrollment in public benefits

A note on definitions: Public benefits/services, or government benefits/services are called many things tangentially, but they all refer to monetary or tangible assistance provided by the federal government (often administered at a community or state level), depending on whether individuals or families qualify for them. Some examples are:
Medicaid — social health care program
SNAP — Supplemental Nutrition Assistance Program, or food stamps
TANF — Temporary Assistance for Needy Families, or financial assistance
"We find that staggering SNAP benefits throughout the month leads to a 32 percentage decrease in grocery store theft and reduces monthly cyclicity in grocery store crimes". —
SNAP Benefits and Crime: Evidence from Changing Disbursement Schedules
(pdf)
While the entire project was a year long, I was part of the team, comprised of teammates from 18F and USDS, that conducted an extensive research sprint at the beginning. We split up into 3 teams of 2-3 teammates, so that we could travel to various states at the same time.
In partnership with state program offices, community based organizations and USDS, we conducted 80 contextual interviews, site visits and service trials with applicants, non-profit staff and local program administrators across seven states — all within a month.
The research sprint: 1 month, 7 states, 82 interviews


The research team's field activities included:

contextual interviews — individual converstaions with applicants, assistors and local government employees in their homes, workplaces or non-profits.

shadowing and service trials — observing applicant interactions at assistor + government offices.
site visits — on-site in-depth walkthroughs of government program operations.
co-design workshop — mapping current enrollment pain points and designing ideal-state solutions with local government and assisters.

We listened, observed and learned from:



42 assisters & community-based org staff

6 federal agencies and departments




15 state and local administering agencies

13 think tanks and research organizations

9 startups and screening organizations



Service providers showing us their process in non-profits and local government offices around Idaho, Louisiana, New Jersey and New York.

We talked with and observed benefit applicants, service providers, assisters, and advocates at non-profits and government. We asked staff to show us how they work, talk through common practices, and hear their challenges. When shadowing a customer service specialist, I observed him talk with an anxious man helping his brother apply for health benefits, and expertly navigate through disparate systems and documents on two computer screens — providing tactical advice about how to access benefits and offering moral support in the same breath.



💞 We heard about applicant experiences that felt efficient, empathetic and warm.

I looked to this community of single mothers + Mormon friends for support, people who've been through this. They had such good recommendations. — applicant

I always take pictures of my client's cards and papers in case she loses it or it doesn't make it into the application. — applicant

The application process for SNAP is easy here. With her help, I feel like I don't have to do anything. She keeps it all together for me. — applicant

This place makes me feel so comfortable and I don't feel shameful. They are very respectful and helpful. It's so welcoming. They are good people. — applicant
I got my Medicaid when I went to renew my childcare support; they let me know I was eligible which I didn't know about. — applicant
😧 We also heard applicant experiences that felt demoralizing, frustrating — ones that often led to loss of benefits.
The bureaucratic language on human services websites works for policy makers, but it doesn't work for people. Language ... walls off people. — applicant

I woke up at 6:30am and got home at 4pm for a 10 minute conversation about something that I didn't do wrong. — applicant

It feels like nobody cares, they just want you to go away. It's heartbreaking to have to deal with that in every interaction. I'm just preparing for stress. — applicant
I don't want to become and expert on this stuff but I have learned I have to be. — applicant

Applying for benefits is a full time job. — applicant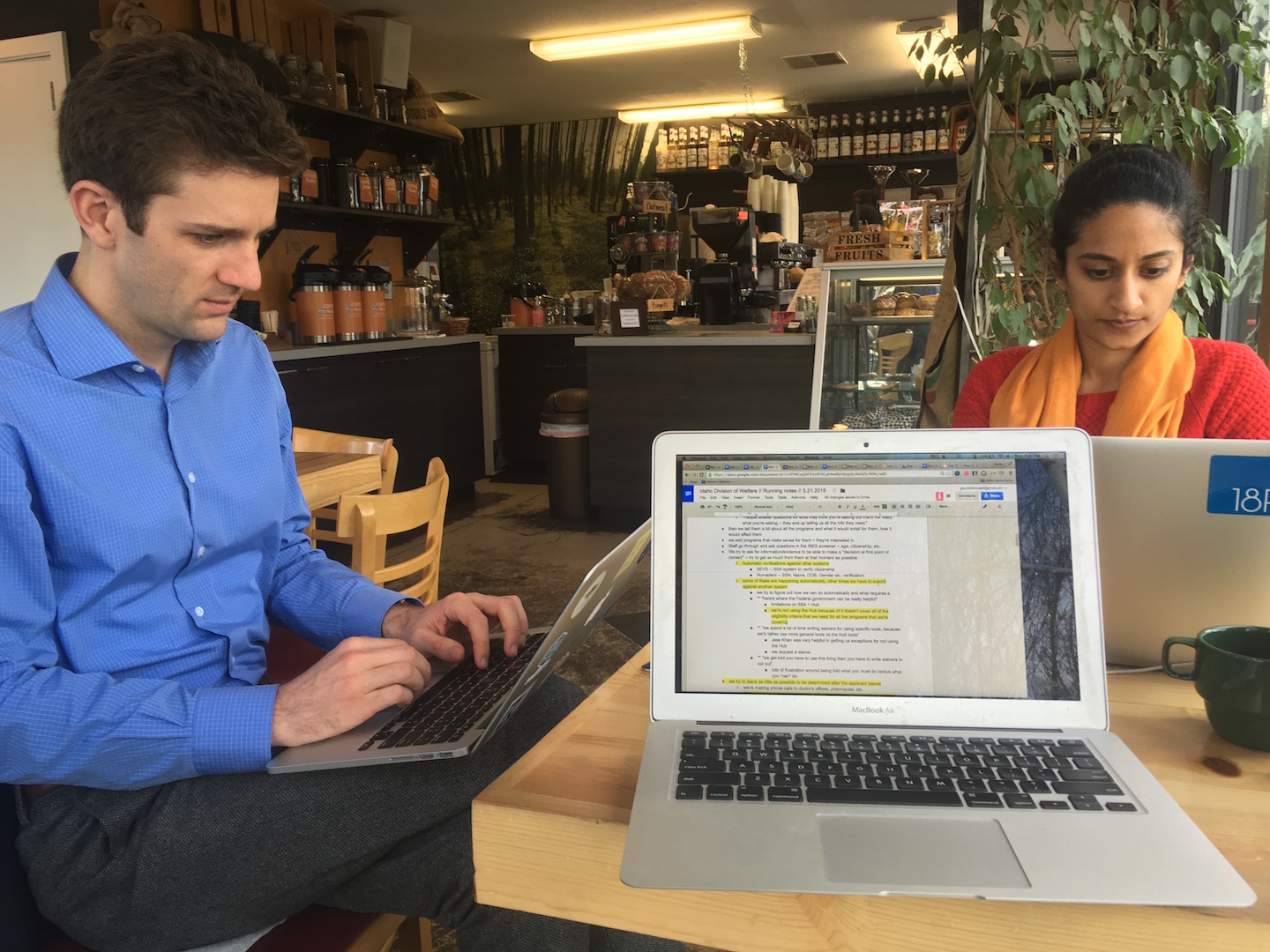 A snowy Denver; cleaning up notes after a full day of research.

Traveling to Colorado in the middle of wintery February meant that we had to improvise (my research teammate's flight to Colorado was canceled) and adjust our research plan and schedule. Luckily, a remote 18F colleague agreed to join me for the interviews we had scheduled.

Every day, the research teams checked in with each other to share what we heard that day. In the evenings, we transcribed and cleaned up notes, began to pull out common themes that were emerging and setting ourselves up for larger synthesis sessions after we finished our research.


Learning from people who apply for government benefits


Our full remote research teams returned to our respective cities. We set up work sessions to comb through each and every interview, attaching keywords to each important comment. Attaching keywords would later help us sort and view all the comments around a particular keyword. Some of the keywords we used were: #bestpractice, #painpoint, #silo, #renewal (referring to renewing benefits yearly), #culturechange, #supportnetwork, #literacy-language, etc. We also read through interviews we were not part of to get a full picture of the weeks of research.

Below is an early version of the experience a benefits applicant goes through from beginning to end. The top portion represents the actions an applicant has to take to learn out about, apply to and receive their benefits. The red notes are experiences that were painful or frustrating, the green ones are experiences that were positive. There were clear patterns emerging.



The series of images below illustrate the full applicant experience, including steps, pain points and best practices for people seeking to enroll in public benefits, and detailed accounts of what we learned from applicants.


1. Applicants find support & programs
2. Applicants prepare and apply for benefits
3. Applicants have to provide more info & await decision
4. Applicants' benefits begin
5. Applicants renew benefits
We learned that applicants needed:
the ability to determine eligibility and apply for multiple programs all in one place, in as few steps as possible.

notifications and feedback loops about benefits that are reliable, timely, and easy to understand.

the option to interact with benefits programs through the channel (phone, text, email, in-person, etc.) with which applicants are most fluent and comfortable.

information that is clear, easy to find, and in simple, straightforward language.
Learning from people who provide benefits: service providers, assisters, and advocates at non-profits and government


Service providers, assisters, and advocates at non-profits and government have a closest to the ground understanding people's challenges when seeking and interacting with critical benefits. Site visits in New York City led us to run a co-design workshop with local staff from different organizations, with the goal to understand the current state of benefits delivery and re-imagine new opportunities for improving the benefits experience.

This workshop instrumental in helping us hone in on immediate and long term challenges and opportunities. Attendees talked through their experiences in small groups — sometimes reaching to the conclusion that some experiences are quite common, other times, learning that a challenge that one organziation has is caused by the constraints of another organization. We mapped the conversations together on large sheets of paper on the tables in front of us, and shared what we learned from with the entire group.



We then brought everything we learned on the large white board. As applicants learn about, apply for, receive, and renew benefits, what happens behind the scenes in organizations during all of these stages? What are the communication patterns between employees? What technologies are used? What do the benefits policies say? And, then, are the improvements that we all agree are needed to make the administration of benefits easier, more efficient, and especially — more human-centered? In the ideal world, what should these processes look like, work like, feel like? Can we, as part of the federal government, take actions to help further local organizations' and state governments' efforts?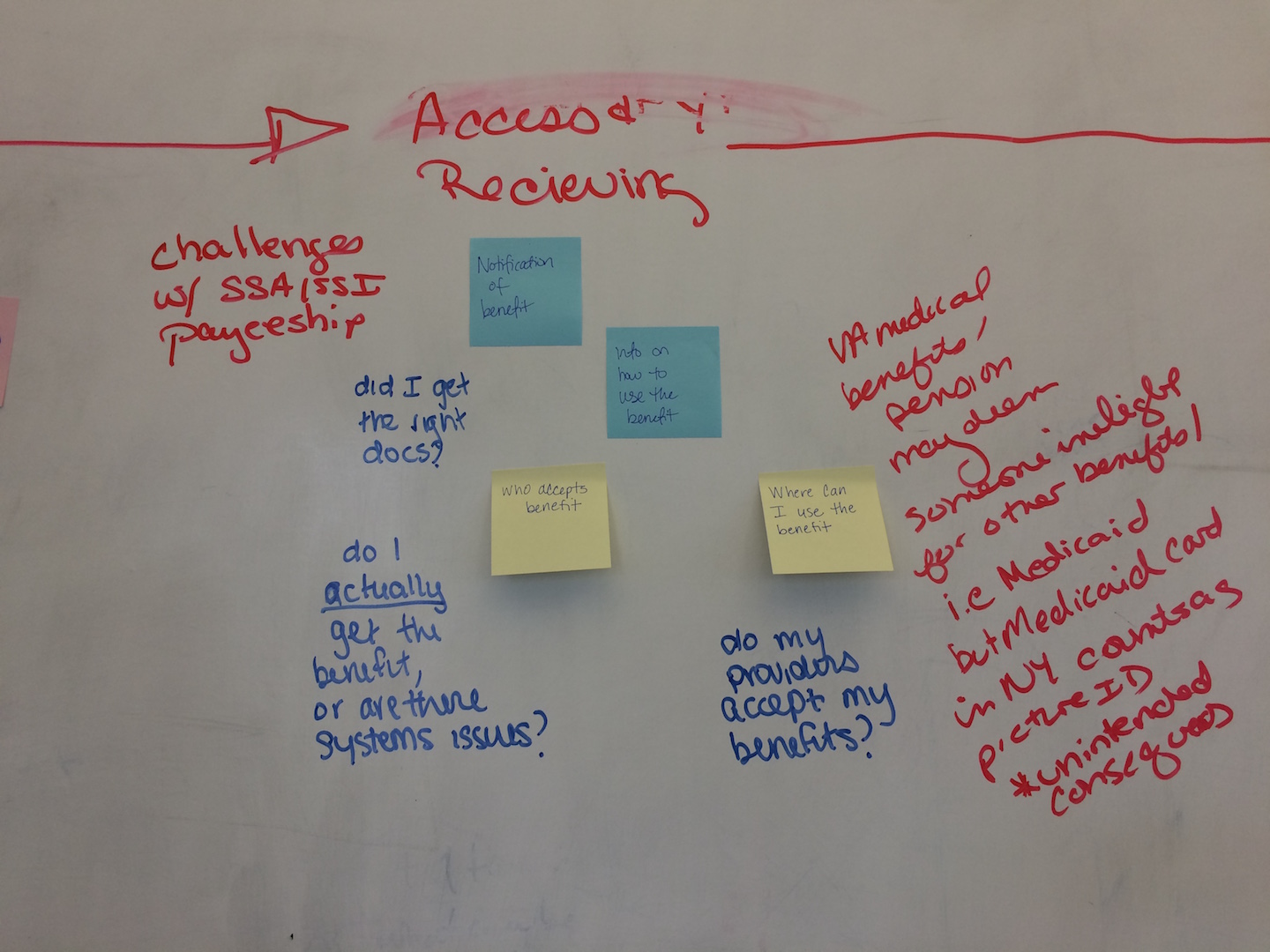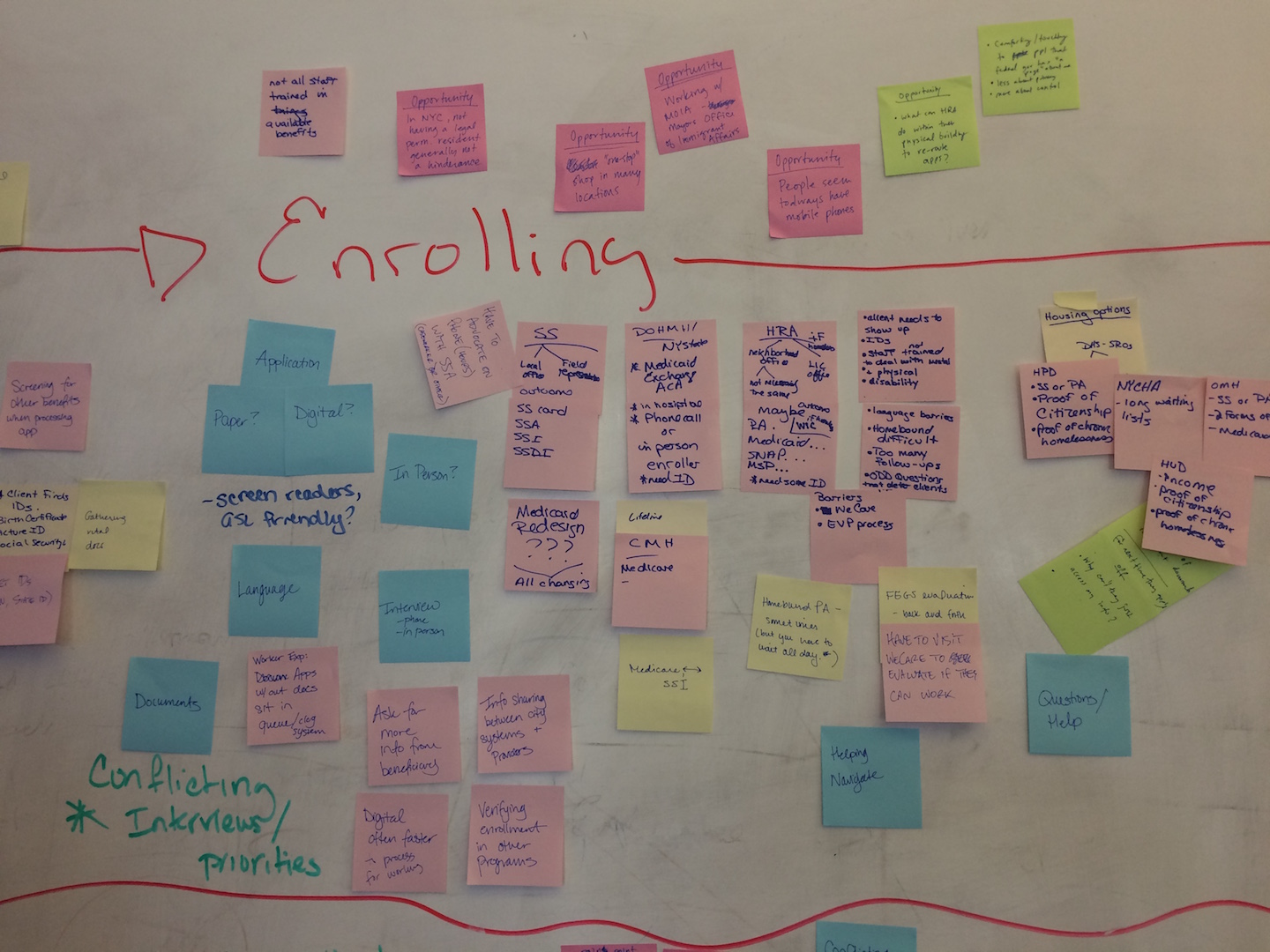 Once again, back home, our research team mapped out the full benefits organization experience, including steps, pain points and best practices for how to help applicants apply for public benefits — across four states.



Below is a end-to-end breakdown of the behind the scenes processes in two states that are on the forefront of modernizing benefits administration — Louisiana and Idaho, with the goal of observing and documenting what they were doing differently and uniquely to provide the increasingly great experiences for applications applying for benefits.


Identifying design principles for an improved benefit enrollment process


Analysis of what we learned from applicants and benefits administrations led us to identifying some important principles for creating family-centered benefit program enrollment services:

Design for real-time eligibility determination and same-day enrollment. Model how states would collect data to verify against other government systems when possible.
Work to connect people to the programs they want and need, in as few steps as possible. Give applicants the option to apply for multiple benefits at once or to apply for just one benefit while informing them of other programs available to them.

Plain language and warm voice. Because these programs are complicated, do the hard work to keep the wording very simple. Use a conversational, encouraging tone to keep people moving and show people where they are in the process at all times.

Mobile-first responsive design. Ensure that people can apply on all devices by designing first for small screens.

Fewer prompts per screen. Ask people questions in small bite sized chunks, so as not to overwhelm with multiple complex questions at any single step. Always let people know where they are in the process.

Personalize and tailor applications. Only show applicants' information related to their specific circumstances.
︎Research

·

User Research Insights: Mapping the applicant experience of benefit enrollment
Designing a prototype to demonstrate that it was possible to easily apply for multiple benefits in the same day

As we were wrapping up research insights, there was one more important deliverable to complete — a quick prototype of a mobile-friendly web-based multi-benefit application platform which models same-day enrollment best practices. I stepped away from research synthesis for a moment to think through the crucial of steps and screens needed to communicate how this platform could work.

The USDS team took the initial prototype much further in the following months. It is now a fully working prototype of what an online application to multiple government benefits might look like. It is designed for easy reading, mobile-responsiveness, and policy compliance with feedback from real users, and is founded on the design principles that emerged from our research.


︎Prototype (this is not a real application)

· Static-page multi-benefit application and enrollment prototype
Impact
This research directly inspired and informed future work by other organizations in the civic and government technology ecosystem, including: